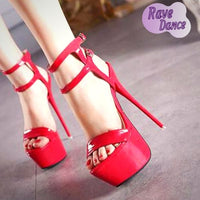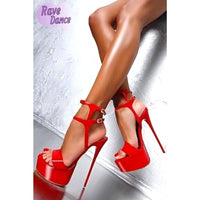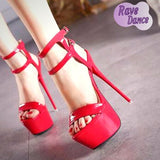 Pole dance shoes red 16 cm - Rave Dance ™
86,90 €

Unit price

Save 10,10 €
You have just found the pole dance shoe you need! Let us tell you a little more...
The pole dance shoe that will enhance your dance!
If you like the sensuality of the color red , know that you are exactly in the right place!
This pair of shoes created by Rave Dance ™ is a true ode to women.
With 16 cm stiletto heels and a color scheme offered by this red, you will be at the top of your femininity .
Don't forget it's not just a shoe or a simple pole dance heel
The advantage that we see is that you can use it to:
Your pole dance classes
Pole dance training
Pole dancing shows
or even a photo session on the bar

If we take a closer look at this
pole dance shoe!
We offer you to look at these shoes, as in a real pole dance shop ..
The first thing that jumps out at you are the stiletto heels , nothing more beautiful than to magnify your curves with heels.
Beyond that, you know, the stiletto heel is also the balance between sensuality and elegance.
Note that 16 cm heels are quite high, so if you are not used to wearing heels, consider choosing a smaller pair.
The second notable thing is the 4.5 cm platform , which is perfect for pole dancing , because without a platform and with such high heels it becomes dangerous to dance!
Another element is the clip, observe that there is a double adjustable strap , this is very important because it will ensure that even if you find yourself upside down on your pole dance bar, they will stay on your feet.
The straps are adjustable at the heel and also at the ankle.
Shoes to perfect a pole dance outfit

These shoes are ideal to match with your favorite pole dance clothes !
Features :
Style

 

: Pole dance heel
Matter

 

: Leather
Platform

 

: 4.5cm
Heel

 

: 16cm
Skate

 

: non-slip resistant
Flange

 

: Doubled
Sizes

 

: 34 to 41

Our opinion on the red pole dance heels 16 cm - Rave Dance ™
We love the color red for pole dancing , because it brings a touch of glamor and pep that can put your dance in a completely different atmosphere, so we inevitably lack objectivity so...
WE GIVEN IT THE RATING OF 5/5 ⭐
These items are often ordered by our dancers