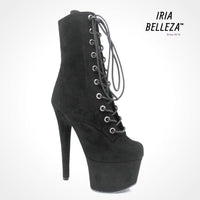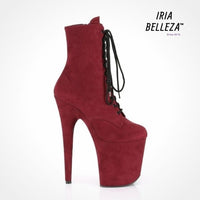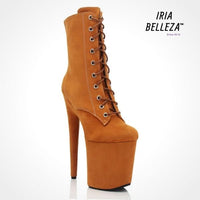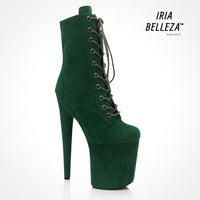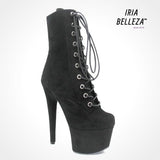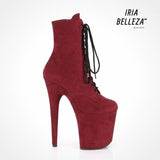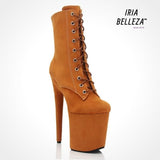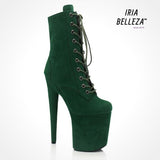 Pole dance ankle boots 20 cm - Iria Bellaza™
A high-end pair of ankle boots, with unique colors and 20cm heels . Something to make you dizzy!

High-end boots, it's kind of THE pole dance shoe you need!
A stylish shape, an incredibly large heel size, a platform to ensure your dance steps, very high quality leather and magnificent colors...
Iria Bellaza™ makes us very happy with these pole dancing ankle boots.
Keep in mind that pumps, mules are ok but not great for pole dancing while boots are the most versatile pair of pole dancing shoes !
They provide excellent support, which is very important when you find yourself on the pole dance bar .
Why is this
pole dance shoe considered high-end?
We welcome you to our pole dance shop! We can offer you a tea, a coffee or a glass of champagne.
"And yes, top of the range is top of the range girls!"
Let me describe this shoe to you, first of all, it's high quality leather, which offers you many positive points :
Durability : your boots

 

will last for several years

 

pole no problem.

Eternal youth : in a stroke of milk for suede leather they

 

will resume their brilliance.

Your feet will thank you : leather has this advantage, it allows

 

the shoe to mold itself to your foot

 

and not the reverse.
Then watch the shape of the shoe , its heel and its platform , there is nothing more faithful to the world of pole dance than this pair of shoes.
As proof, they are designed for this purpose only!
Finally there are the high laces. They are  very important to ensure good joint support. Let's not forget that this allows your shoes to stay in place when you pirouette.
Note that the heels measure 20 cm , it's a big size for pole dancing. Besides, we can't do more then...
If you are not used to wearing 17 cm heels, we do not recommend this model.
Boots to enhance your style and your pole dance outfit!

Depending on the color, these boots will easily match your favorite pole dance clothes , that's the advantage of having a good quality product in your hands!
Features :
Style

 

: Lace-up ankle boots
Global material

 

: 100% High quality leather
Interior material : Smooth leather and lined for comfort
Outer material : Premium suede
Platform

 

: 8cm
Heel

 

: 20cm
Skate

 

: high quality rubber
Colors:

 

Black, camel, burgundy and green
Sizes

 

: 34 to 40

For your comfort we have added half sizes. If you have any doubts, it is best to refer to your previous purchases.
We are much more than a simple pair of ankle boots... This is a top-of-the-range product , it will become your favorite accessory. for your pole dance wardrobe !

This pair will be useful for:
Challenges, contests or shows

pole dancing lessons
A photo shoot
Private shows


Our opinion on the 20 cm pole dance ankle boots - Iria Bellaza™
We challenge you to find anything better than these ankle boots!
In fact, we'll even be ready to reimburse you... Very high quality leather, suede upholstery, a goldsmith's cut and design, colors outside the basics and an incredible heel height!
Let's not forget that quality is both beautiful and durable!
WE GIVEN IT THE RATING OF 5/5 ⭐
These items are often ordered by our dancers