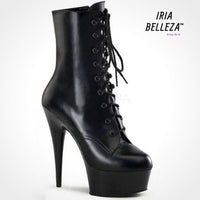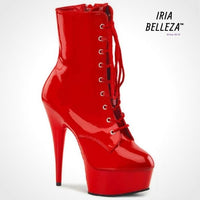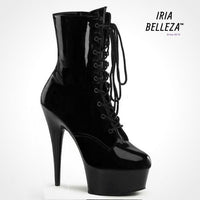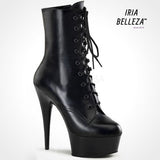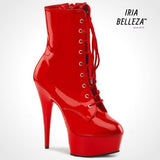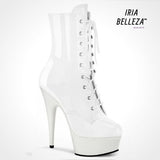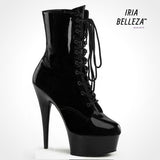 Pole dance ankle boots 15 cm - Iria Bellaza™
If you want a good support in your dances and a pair of shoes that can adapt to all situations.... There is nothing better than ankle boots
A pole dance shoe yes but boots are better!
Lace-up boots, beautiful leather, various colors and a shape designed for pole dancing...
We must say that Iria Bellaza™ pleases us with this model.
We mentioned it in the blog but you have to keep in mind that the boots are the most versatile pair of shoes because they provide very good support for a pole dance shoe.
Besides, these boots
can follow you everywhere

:
During your home pole dance training
In your classes at a pole dance school
In pole dance shows
During your photo shoots between Girls

And even in your private moments
The bonus: your feet and ankles are protected, so you can freely do your choreas, facilitate your transitions, floor work, and figures at the pole dance barre
Boots for your pole dance outfits

These boots are beautiful and will easily find their place in your wardrobe, they can easily match your favorite pole dance outfit !
Features :
Style

 

: Ankle boots with high laces
Matter

 

: 100% Resistant leather exterior and soft leather interior
Platform

 

: 5cm
Heel

 

: 15cm
skate

 

: High non-slip quality
Colors

 

: Black, black patent, red and white
Sizes

 

: 34 to 42 (take a size above)


Why is this pair of pole dance shoes amazing?
Let's look at the advantages of these boots ...
To start heels and platform , both sensual and feminine , there is nothing more pole dancing than this combination of platform ankle boots.
Then , the quality leather, the advantage is threefold: these boots will resist several years of pole, then in a shot of milk and shoe polish they will regain their shine , finally the leather has this advantage that it allows the shoe to mold themselves to your foot and not the other way around.
Finally there are the laces , it's very important because you don't necessarily think about that but nothing worse than feeling your shoes slipping at the end of your foot when you're on the pole dance bar. The laces ensure that your shoes stay in place .
Note that the heels measure 15 cm , it is an intermediate size for pole dancing.
If you are new to heels and dancing with heels, it's probably a bit too much to start!
Our opinion on these 15 cm pole dance boots - Iria Bellaza™
If you love ankle boots in life, you'll love ankle boots in pole dancing!
Comfortable , with beautiful leather And versatile , these ankle boots will follow you on your dancing adventures.
Due to their quality and the heel which is not too big...
WE GIVEN IT THE RATING OF 5/5 ⭐
These items are often ordered by our dancers