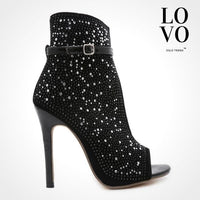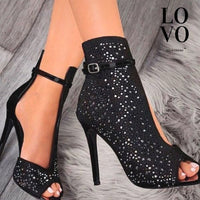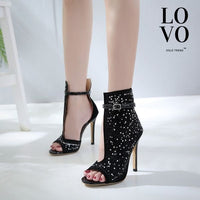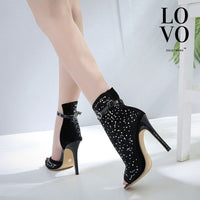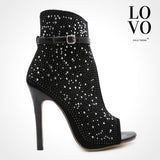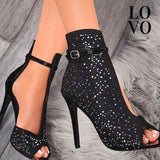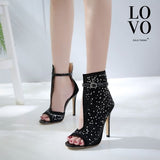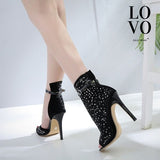 Pole dance shoe 12 cm - LOVO™
76,90 €

Unit price

Save 10,10 €
Wearing rhinestones and sequins directly with these shoes, nothing better to give a touch of magnificence to your dance .

A pole dance shoe that will amaze you!
Beyond the rhinestones present on this model .. "between us we love it, it has its effect!"
You can see the shape and balance of this pair of shoes! You might think they are ankle boots or sandals but no...
We must say that LOVO - Oslo Trend ™ has really done well with this model.
Besides, the good news is that it is not necessarily at the feet of all pole dancers, so if you like to feel a little unique , it's a good choice!
Besides, this pair of shoes can follow you everywhere :
Your pole dance training
Your pole dance lessons
Your pole dance shows
Your photo shoots

Your private moments
Shoes for your pole dance outfits

These shoes are ideal for pairing with your favorite pole dance outfit !
Features :
Style

 

: Sequined stiletto heels
Matter

 

: Swedish suede
Platform

 

: 1.5cm
Heel

 

: 12cm
skate

 

: non-slip
Flange

 

: Simple above the ankle
Sizes

 

: 35 to 43


Why does this pair of pole dance shoes belong in your wardrobe?
It's time to list the advantages of these shoes ...
We will start with the stiletto heels , both sexy And feminine , there is nothing more beautiful than to magnify your curves and your dance with heels.
Then , rhinestones and their "big night" side, pole dancing is a world where you like to feel beautiful so what better than to add some effects with these rhinestones?
Finally there is a adjustable ankle strap , it's very important because you don't necessarily think of having shoes that hold but there is nothing worse than losing these shoes during a movement on the bar .
Note that the heels measure 12cm , it's quite high and low at the same time.
If you are new to heels and dancing with heels, this is perfect for you!
Our opinion on these 12 cm pole dance shoes - LOVO™
Tested and approved for us!
We must say that we can even wear these heels in a party without a pole dance bar in our hands.
We particularly like its shape and its rhinestones!
WE GIVEN IT THE RATING OF 4/5 ⭐
These items are often ordered by our dancers