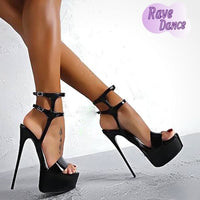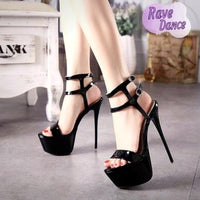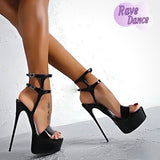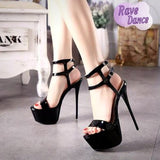 Black pole dance heels 16 cm - Rave Dance ™
88,90 €

Unit price

Save 10,10 €
If you are looking for a pair of sober and elegant heels to practice your pole dance, you have come to the right place!
There are shoes and there is THE pole dance shoe
Rave Dance ™ surprises us once again with a wonderful pair of shoes for pole dancers.
Straight out of their box, they will delight your dance and magnify your movements .
These heels are ideal for a:

Pole dance training
Pole dancing lessons
A pole dance show
A pole dance shoot


What's so special about this pole dance shoe?
The must have is the platform , obviously if you dance with 16 cm heels it is inconceivable not to have a platform on this same shoe.
The reason is very simple, you need good support , especially during transitions and landing movements .
The shoe has a double strap . This is very good news because you have the possibility of adjusting it at the level of your ankle and also of your Achilles heel .
The shoe adapts perfectly to your morphology
Finally these are stilettos and there is nothing more sensual and feminine than finesse and a stiletto heel. Besides, you don't need to love shoes to know it, you just have to see it!
Just note that these are 16 cm heels, if you are not used to wearing heels we advise you to aim a few centimeters lower to start.
A pair of heels to complete your pole dance outfit
These shoes are ideal for pairing with pole dance training or class outfits!
Features :
Style

 

: High heels
Matter

 

: Leather
Platform

 

: 4.5cm
Heel

 

: 16cm
Skate

 

: non-slip resistant
Flange

 

: Lined and adjustable
Sizes

 

: 34 to 41



Our opinion on the Black pole dance heels 16 cm - Rave Dance ™
These are beautiful stilettos with a beautiful platform that will provide support for your pole dance sessions!
We tested them in different contexts and the shape of this shoe is very versatile, so for your classes , your shows or even shootings it works very well.
WE GIVEN IT THE RATING OF 4.5/5 ⭐
These items are often ordered by our dancers