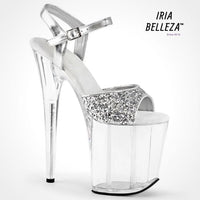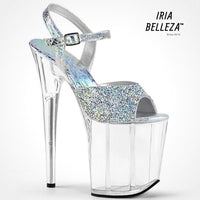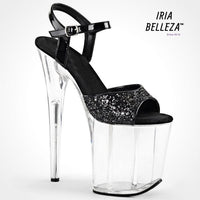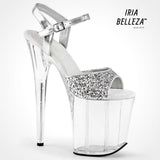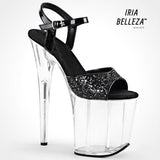 Pole dance shoe 20 cm - Iria Bellaza™
Are you going to be up to wearing these shoes?
" the height is the case to say it ... 20 cm is not nothing "
If there is a pole dance shoe that makes you dizzy...
Yes it is this one, with a 20 cm heel and a 7.5 cm platform you will quickly discover what high altitude is!
This pair of sandals is designed for pole dancing and just for pole dancing.
Icing on the cake, you have a nice choice of colors for perfect your style , you can opt for:
Black

 

for its elegance
Money

 

for its sparkling side
Blueberry to add a touch of pep
A little zoom on these pole dance heels, anyone?
They have an adjustable leather ankle strap . This strap provides good support at the joint and allows you to no longer worry about your shoes. What is important when playing spinning on the bar!
The heels are 20 cm , no, we're not kidding anymore!
Note that these heels are not recommended if you have not danced in 17cm heels before.
A modern and Roman sandal with a double advantage, the first is simply that it is a shoe that goes through trends and fashions.
It is very feminine and gives your dance a touch of grace and extra sensuality .
Finally, a support platform , it will ensure good stability during your dance. It will simplify your transitions and your different movements. 
Having a platform on a pair of pole dance shoes is the basis!
These heels with your pole dance outfit and you become the Queen!

These pole dance platform sandals created by the brand Iria Bellaza™ are simply gorgeous!
Imagine yourself for a moment with these shoes on the pole dance bar .
Features :
Style

 

: Roman

type pole dance sandal

Materials

 

: Synthetics
Platform

 

: 7.5 cm support
Heel

 

: 20cm
skate

 

: non-slip rubber
Flange

 

: leather at the ankle
Sizes

 

: 34 to 46


Our opinion on the 20cm pole dance shoes - Iria Bellaza™

As it is difficult to find shoes with 20cm heels and a well-balanced platform, we can only give it the maximum mark!
Especially since we love the shoes of this brand so ... Ok ok we are a little too in love to be objective but hey ...
WE GIVEN IT THE RATING OF 5/5 ⭐
These items are often ordered by our dancers