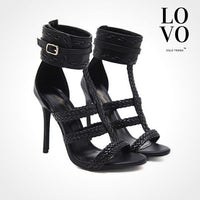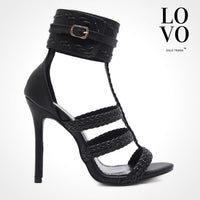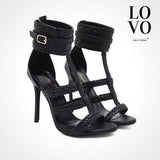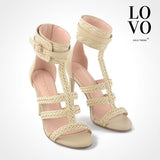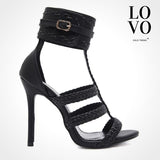 Pole dance shoes 11 cm - LOVO™
78,90 €

Unit price

Save 10,10 €
Before reading this description, take your time to imagine these shoes on your feet...
You can even imagine which pole dance top and shorts you will associate them with!
The pole dance shoe to have for beginners!
Because it's not necessarily easy to start pole dancing with 16 cm heels ... so we made a choice among the alternatives of small heels.

These pole dancing heels designed by the brand LOVO - Oslo Trend ™ are very versatile and really great to start your career as a pole dancer or at least your first training ...
Now let's take a closer look at these pole dance shoes!
The style of this Roman sandal has a double happiness effect, the first is simply that this style of shoe goes through the ages without becoming outdated.
It brings a touch of elegance and gives your movements an extra touch of femininity .
The second effect is that you have an adjustable ankle strap. This ensures support at the ankle and also avoids losing your shoe when spinning on the pole dance bar for the first time.
Small 11cm heels , it is sometimes difficult to start your pole dance training with heels over 14cm.
If you are used to heels over 13 or 14cm, opt for a pair with larger heels between 15cm and 17cm for example.
A small platform is a must to have a balanced shoe but also note that it softens the impacts and provides additional support for your dance.


Any idea how to pair this pair with your pole dance outfit?

You have the choice between two colors to perfect your style.
Are you going to choose the elegance of black color?
Or will you opt for the sobriety of this beige ?
Features :
Style

 

: Roman
Materials

 

: Faux leather
Platform

 

: 2cm
Heel

 

: 11cm
Skate

 

: non-slip rubber
Flange

 

: adjustable at the ankle
Sizes

 

: 34 to 40
Ideal : For beginners to heel dancing



Our opinion on this 11 cm pole dance shoe - LOVO™
A very nice choice of shoes if you are new to pole dancing .
They are very easy to put on in class, they hold well to the feet when you are in your movements and their size of 11 cm are very good for training to dance with heels .
WE GIVEN IT THE RATING OF 4/5 ⭐
These items are often ordered by our dancers