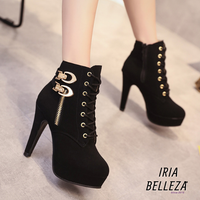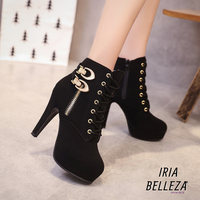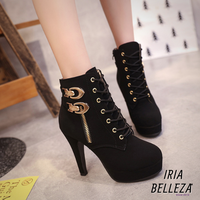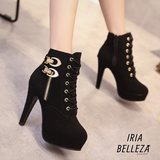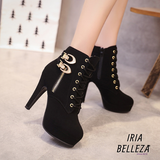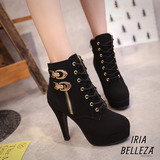 12 cm pole dance ankle boots - Iria Bellaza™
98,90 €

Unit price

Save 10,10 €
Boots are the best of both worlds! A good support at the time of your dance and a pair of shoes that can adapt to each situation.... 
Ankle boots are kind of THE pole dance shoe!
High-quality imitation leather, a cut of rare elegance, an ideal heel size for pole dancing and plain and sober colors...

Let's admit once again that Iria Bellaza™ impresses us with this pole dance ankle boot model.
We have already mentioned it in an article of our blog, you should know that the ankle boots are the most versatile pair of pole dancing shoes!
They provide excellent support, which is very important when you find yourself on the pole dance bar .
What are the strengths of this
pole dance shoe?
Let's take the time together to look at these shoes from every angle, a bit like in a pole dance shop!
The first thing is the quality leatherette, the advantage is multiple:
Durable : these ankle boots

 

will last for several years

 

pole,

Vegan : This product does not come from the animal world ,

Your foot thanks you : imitation leather has this advantage, it allows

 

the shoe to be modeled in part to your foot

 

and not the reverse.
Secondly the platform , heel and overall cut both timeless and feminine , there is nothing more faithful to pole dancing than this pair of ankle boots.
Finally there are the laces , very important because sometimes you can forget the essentials but there is nothing worse than feeling your shoes slipping off your feet when you are on the bar. Laces ensure your shoes stay in place .
Note that the heels measure 12 cm , it's a nice size for pole dancing.
If you are used to 12cm then you can try a little taller heels
These ankle boots will enhance your favorite pole dance outfit!

These boots can easily be paired with your favorite pole dance clothes , that's the advantage of boots and sober colors!
Features :
Style

 

: Ankle boots with laces and zipper
Matter

 

: 100% Leatherette
Platform

 

: 3.5cm
Heel

 

: 12cm
skate

 

: superior quality
Colors:

 

Black
Sizes

 

: 35 to 42
Don't forget this isn't just a boot...it's a unavoidable for your pole dance wardrobe !

It will be useful for you :
pole dancing class
home pole dance training
an instagram photo shoot on the bar

even some pole dance competitions


Our opinion on the 12 cm pole dance ankle boots - Iria Bellaza™
Why do we love these shoes?
Nothing better than boots to practice pole dancing safely!
In addition, the heels are relatively small for pole dancing, which is therefore an asset for non-professional heels.
WE GIVEN IT THE RATING OF 4.5/5 ⭐
These items are often ordered by our dancers