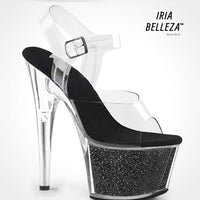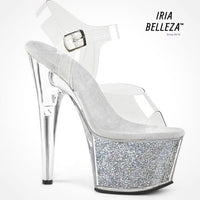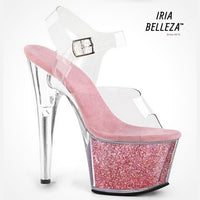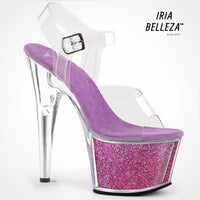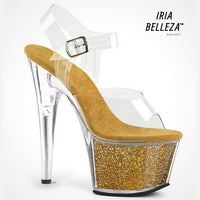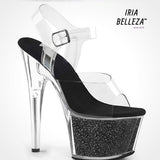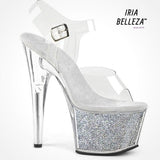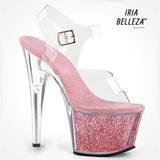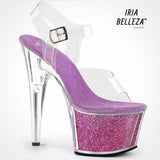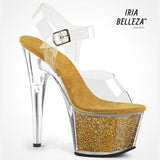 Pole dance platform sandals 17 cm - Iria Bellaza™
Go have a little game? Imagine these shoes on your feet!
Are you there? You are at home, they have just come out of the box!
What color did you order?

If there is a pole dance shoe to have...
Finally a "pair of shoes" we understood each other, we will avoid playing the Cinderella on the pole dance bar, it would be disabling! I let you imagine...
These pole dance platform heels designed by the Iria Bellaza™ brand are simply perfect for your performances .
Let's take a closer look at this pole dance shoe
The Roman type sandal has a double advantage, the first is simply that it is a shoe that goes through the ages, it is elegant and gives your dance an extra touch of femininity .
The second advantage is that it has an adjustable strap , ensuring good support at the ankle and also at the level of the shoe in general. This is important to avoid accidents or injuries!
The 17cm heels , it's hard to do more then if you're used to wearing heels and dancing with these parfaits.
If it's a bit too much to start , opt for a pair with smaller heels between 13 and 15 cm for example.
The platform will provide support for your dance, for your transitions and for your different movements. Having a platform on your pole dancing pairs is crucial . Without that, it's still dangerous.
It's a very easy pair to pair with a pole dance outfit.
You have a nice choice of colors to perfect your style, so you can opt for:
Black for its elegance
Silver for her sparkling side
gold for eternity
pink for glamor
purple for surprise
Features :
Style : Roman

Sandal

Materials : Durable synthetic and suede sole coating
Platform : 5.5 cm of support
Heel : 17cm
Skid : non-slip
Strap : adjustable at the ankle
Sizes : 34 to 40
Other : waterproof

Our opinion on the 17 cm platform pole dance shoes - Iria Bellaza™
If you are looking for a pair of sandals for pole dancing, you can trust Iria Bellaza™, these are shoes that will hold up over time, even if you abuse them for hours!
WE GIVEN IT THE RATING OF 4/5 ⭐
These items are often ordered by our dancers