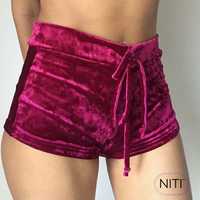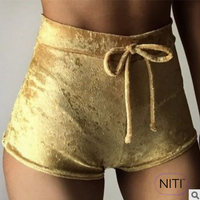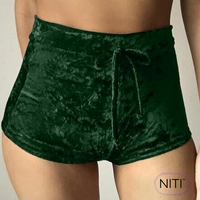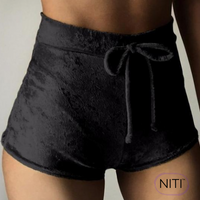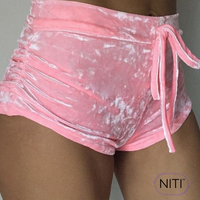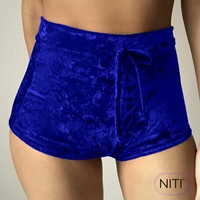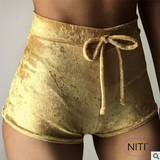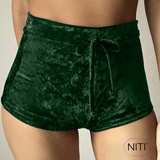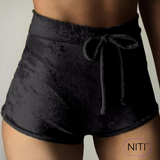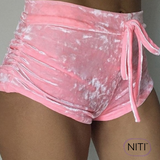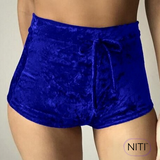 Velor pole dance shorts - NITI ™
Velvet shorts as soft as a cloud, as soft as body milk or as soft as a caress... "Ok, I'm getting carried away, it's my poetic side"
Velvet shorts for your pole dance outfits!
A pretty velvet is always a safe bet!

There are few fabrics capable of bringing an immediate effect just to the eye. When you look at a velvet, you immediately have this desire to touch the fabric .
Even if your butt isn't available to all hands, at least you're lucky enough to be able to caress those shorts you're wearing!
Know that these shorts are perfect for your pole dancing , sound satin style and its laces offer an additional touch of style and softness to your dance.
Take the time to imagine yourself in these shorts? Are you there?

Now all you have to do is imagine the color you want .
Pole dance shorts that bring softness and sensuality!
This shorts will give you a great style !
A subtle blend of softness that can be imagined just by touching the fabric but also a touch of sensuality thanks to its very feminine shape and cut .
The work of the NITI ™ brand on the colors will bring a unique touch that we validate, it's perfect for pole practice!
It will bring the touch that makes the difference during your pole dance choreographies
And we're not talking about the high waist and the laces either....

Features :
Sizes : XS, S, M and L
Colors

 

: Black, burgundy, blue, gold, pink and green
Matter

 

: Synthetic durable velor
Maintenance

 

: Soft elastic thigh and lace at the waist
Cut

 

:Fit
Interview

 

: Washing machine at 30 degrees to protect the velvet
Smooth movements on your
 

pole dance bar!


Here you have a pole dance outfit perfect for your pole dance classes and shows

No need to change, you can wear these shorts for:
Homemade pole dance training
A pole dancing class
A shoot between girls
A pole dance show
Whether on the ground or on a bar, comfort and softness will be there.
It is a must, a pole dance clothes to take away and carry everywhere, we can guarantee you that you will fall in love with its sweetness !

Our opinion on these velvet shorts - NITI ™

We adore, we love, we are huge fans of velvet!
For several reasons, already because it's timeless, it's also sensual and if it's super comfortable to wear because it's ultra soft!
We highly recommend it..
It is therefore given the score of 4.5/5 ⭐
These items are often ordered by our dancers