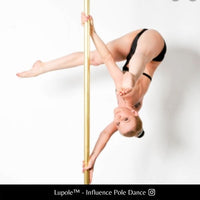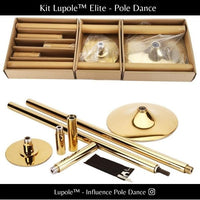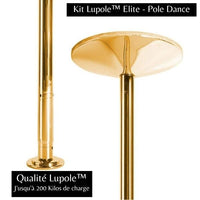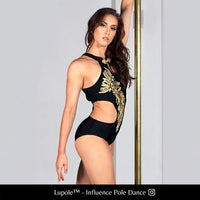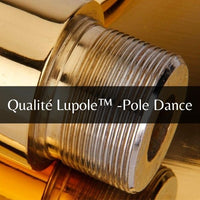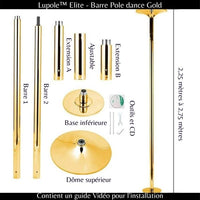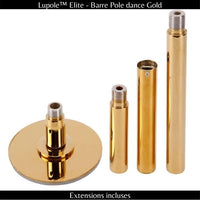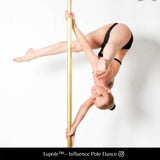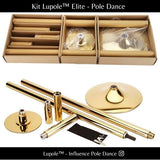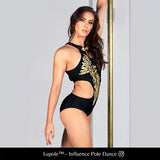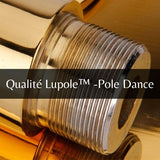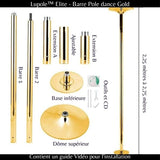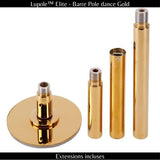 Lupole™ Elite - Pole dance bar Gold
Shine while dancing!
It is not for nothing that this pole dance bar is in our pole dance shop ....
What could be more elegant than this color?
This high quality bar has chosen to appear in its finest guise, tinted by its golden reflections , it will add this touch of elegance to your practice of pole dancing .
Pole dance bar for beginners and advanced
It is rare to find pole dance bars that can keep up with your training and travels for several years.
Once again, there is no doubt for us about the quality of this partner brand: Lupole™
This "Elite" series has the advantage (beyond its unique color) of providing you with:
High performance

 

: It's all in the grip! Your pole dance bar should give you good grip and a good glide because whether you are static or spinning, if the grip is bad it will be difficult to progress in this sport!

Professional quality

 

: As mentioned above, quality materials and a trusted brand are extremely important when buying a pole dance bar. Here Lupole™ you have pro quality!


Maximum security

 

: A pole dance bar must not fall like on the hundreds of youtube videos. A barbell is an accessory that should help you and accompany you in your tricks. All while ensuring your safety.
This Lupole™ Elite - Barre Pole dance Gold model meets all of these criteria!
Characteristics Lupole™ Elite - Gold pole dance bar
What you need to know about this pole dance bar:
Adjustable length from 2.25 m to 2.75 m to adapt to your ceiling.

Standard diameter : 45mn, conforms to the pole dance prerequisite.


Supported load: 200kg.


Easy to install

 

: 15 minutes will suffice.


Matter

 

: Quality electroplated chrome finish and durable gold tint.


Modes:

 

Spin/Rotate.
The Kit represents 9 elements:
Main bar : the longest of the bars
Secondary bar : the second part
Extension 1

 

: from 25 cm to use if necessary
Extension 2 : 15 cm to use if necessary
Upper dome : to stabilize the pole dance bar on the ceiling
Lower base

 

: to stabilize the pole dance bar on your floor
Adjustable lid

 

: to maintain the bar
Accessories for assembly

 

: Screws and keys
Editing CD : To make your life easier
If after checking your ceiling is higher than the bar, you can find additional extensions on our site.
The opinion of the pole dance shop
Our opinion on the Lupole™ Elite - Gold pole dance bar is the next :
Lupole™ is a trademark of superior quality especially for this Elite model . 
Beyond the fact that this specific bar is recommended in the rest of the world by many professionals... this version is amazing !

The bar offers pro quality and ease of grip during installation that will delight any beginner or experienced dancer!
For once we let you guess the note! ⭐
These items are often ordered by our dancers