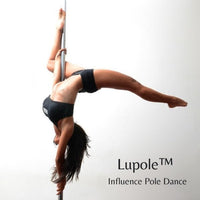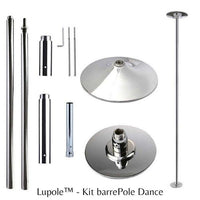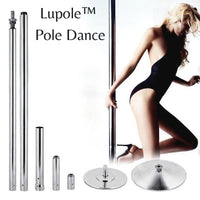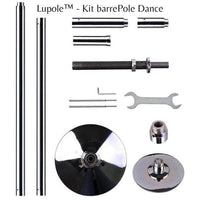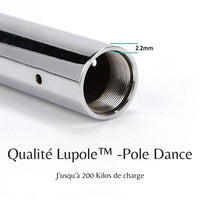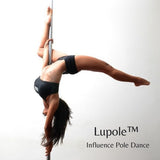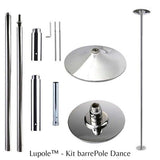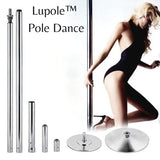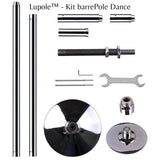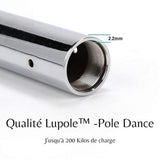 Lupole™ Neo - Removable pole dance pole
The most practical pole dance barre!

This pole dance bar will delight you with its simplicity.
You will probably ask yourself " but a bar is a bar, so why is it simpler or more practical than another? "
We have often looked for a pole dance bar that can adapt very easily to each place . Whether at home, in a gym, with friends or elsewhere, you don't want to disassemble and assemble your pole dance bar for hours , do you?
Here are the many advantages of this Lupole™ removable pole dance bar:
Practical : it adapts to all kinds of ceilings and floors, ensuring solidity in your spinning & static practice.


Simple : it is very easy to assemble and thanks to these extensions, you don't have to worry about the height.


Efficient : the quality of this bar ensures good grip during your exercises.
The Lupole™ brand
After much research we have finally found a brand advocating simplicity , we often see in the world of pole dancing many brands neglecting this aspect, it's a shame.
Our meeting with Lupole allowed us to discover this pole dance bar which is both quality and practical .
For us, this brand is ideal for beginner to regular practice ,
Pole dance bar extension
To make your life easier, Lupole™ includes in its pole dance bar, two extensions for the bar !
To be more concrete, the pole dance bar measures 2.25 meters in height and can go up to 2.75 meters.
There is an extension of 125 mm and another of 250 mm.
This size will cover 99% of the ceiling heights.
Unless you live in a renaissance castle... In this case Madame la Duchess, a podium pole dance bar is desirable.
Removable pole bar
Yes, it will only be impractical and simple if it were not very easy to assemble and disassemble .
For this one, you don't need to be a handyman, it's extremely simple! you just have to follow the manual and use the keys provided for assembly and disassembly.

Assembling the bar takes approximately 10-20 minutes and disassembling it will take you less than 10 minutes.
The disassembled kit does not weigh very heavy, about 14kg , a little more than a water pack. A good training for your cladding.
Features Lupole™ Detachable Pole Dance Bar
What you need to know about this pole dance bar:
Size adjustable from 2.25 meters to 2.75 meters to suit your ceiling height.

Universal diameter of 45mn, in accordance with the prerequisites of practice.


Important maximum load of 200kg to allow you to perform all figures.


Quick to install

 

: simplify your life, 10 to 20 minutes will suffice for the installation.


Matter

 

: Quality Chrome Metal


Modes:

 

Spin/Rotate
The Kit represents 8 parts to be assembled.
The parts are as follows:
Bar A : the longest piece
Bar B : the second part to nest
Extension 1

 

: from 25 cm to use if necessary
Extension 2 : 15 cm to use if necessary
Upper dome : to stabilize on the ceiling
Lower base

 

: to stabilize on your floor
Adjustable lid : to secure the whole
Accessories for assembly

 

: You don't have to buy anything extra.
Fixation
 

will be done with a simple key to ensure the stability of the pole dance bar.
The opinion of the pole dance shop
Our opinion on the Lupole™ Removable pole dance bar is the next.
Lupole™ is a brand with which we are very happy to work, the quality of their product and their philosophy is well established. 

The bar offers a robust quality and we love the simplicity during its installation!
It is therefore rated 4.5/5 ⭐
These items are often ordered by our dancers