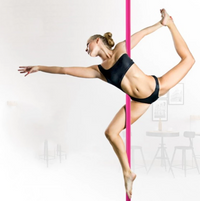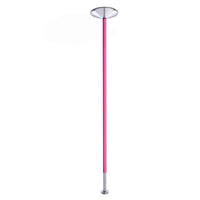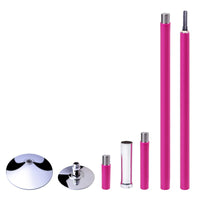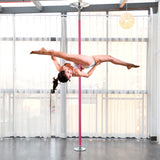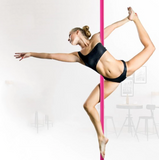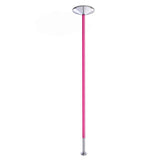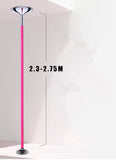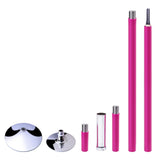 Q&G™ Silicone pole dance bar
A pole dance bar like no other!
La Q ueen du G rip is not a pole dance bar that you find in every backyard or apartment.

Far from the chrome and neutral standards of other pole dance bars .
The G&Q™ will allow you to practice your sport at home by offering you many advantages :
Proven performance , used by many amateur and professional pole dancers.


Comfort during practice, its silicone coating will preserve the beauty of your hands.


Simple to use , very

quick and easy

to assemble, disassemble, move

and

use.
A pole dance grip on the bar

Its silicone coating provides additional grip to your pole dance bar. You therefore naturally have more grip on the pole dance bar, which is a real asset for your practice.
Silicone is a natural material coming mainly from quartz, its adaptation on a pole dance bar allows to bring a product which is non-slip by its self-action of thermal regulation.

In summary, this pole dance bar adapts to the course of your session, allowing you at the beginning and at the end to have a grip
A pink pole dance bar
Seeing life in pink is good anyway...
Pink still remains the symbol of Glamor and Femininity. This color immediately adds a touch of sensuality to your practice and allows you to have a pole bar different from the girlfriends!

Q&G™ Features
What you need to know about the Q&G™ silicone pole dance bar
Adjustable size from 2.30 meters to 2.75 meters to adapt to your ceiling height.

Standard diameter of 45mn, in accordance with the prerequisite of the sport.


Robust maximum load of 120kg to allow you to perform all your tricks.


Easy to install : Make your life easier, 15 minutes will be enough for installation.


Double Material : Chrome for sturdiness and silicone for grip.
How to install the pole dance bar?

15 minutes will be enough to install this pole dance bar .
The first step before opening the box and choosing the place where your pole dance bar will be installed.
As a reminder, the dimensions of this bar are in the rules of the art: between 2.30 meters and 2.75 meters.
You can use a tape measure to measure your ceiling.
The bar represents 7 pieces to simply fit together, child's play.
The parts are as follows:
Main bar : the longest and heaviest of the parts
Bar bis : the second part to be assembled
Extension A : 25 cm to be used if necessary
Extension B : 15 cm to be used if necessary
Upper dome : to stabilize on the ceiling
Lower base : to stabilize on the ground
Assembly Accessories : You know the small parts that will stay in a box or key rest for months.
The fixing will be done with a simple key and screws to ensure the stability of the pole dance bar.
In order to have a static mode and to feel free from all positions on the bar, please choose a smooth floor and ceiling as much as possible.
The opinion of the pole dance shop
Our opinion on the Q&G™ Silicone pole dance bar is as follows.
Q&G™ is a brand that has all our confidence , we have been working with them for several years and we are very happy with it.

The bar offers a good natural grip thanks to the silicone. We love the color pink, because it's very rare to have color on pole dance bars. There are few quality silicone models available in the world of pole dancing so the color is the icing on the cake!
We therefore give it the note 4/5 ⭐
These items are often ordered by our dancers