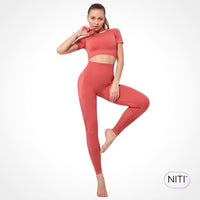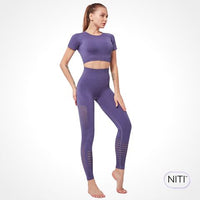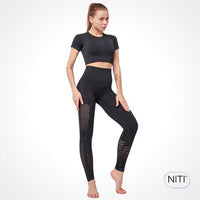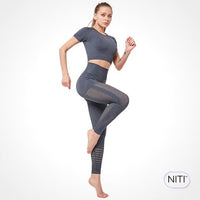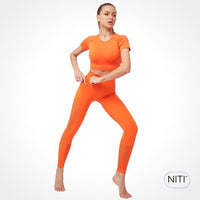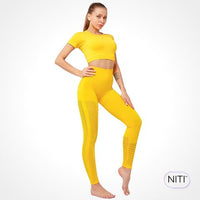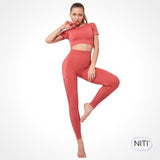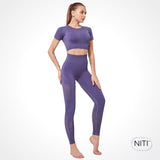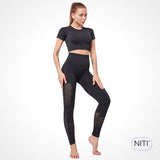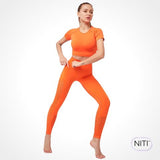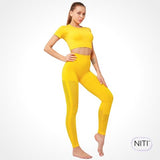 Pole Dance Outfit Set - NITI™
Pole dance leggings and top
This NITI™ sports set is made up of a leggings and a top. It is an ideal set for your lessons and your pole dance training
With its sporty cut, high waist, breathable cells and push-up effect, you'll be jealous!
This set will highlight your figure and your dance at all times!
Pole dance outfit: sport & comfort
This outfit is perfect because it will become a faithful ally for your life as a pole dancer. Open a drawer for it and it will find its place very easily in your wardrobe!
You can put it on during your warm-ups and your training sessions , the materials used are breathable and will allow you to practice without sweating profusely.
Also during your pole dance lessons , this sober united outfit, and will enhance your shapes, it is the advantage of having this type of material on the body, you immediately have more confidence and less complexes !
And why not... if you want to practice another dance or even Yoga or fitness with us, we won't blame you BUT priority to pole dance!


Features
Set: Leggings and Top
Sizes: S, M, and L
Materials: Stretch polyester

Care: Synthetic or sport machine washed with good shape and color retention.
Absorbent and stretchy fabric for pole dancing
Colors: Black, blue, red and gray

An ideal set for your classes and pole dance bar tricks!
These pole dance leggings and top are designed for your comfort and freedom of movement on the pole, whether spinning or static.
Size guide
If in doubt, take your measurements or refer to your previous purchases.
Our opinion on this Pole Dance outfit set - NITI™
We are a fan of this set!
It is simple and effective, gives a beautiful look and sublimates the forms.
Useful for training and for pole dance lessons!
We're quite a fan of pale red and blue with a purple tendency, these are original colors that you can't find everywhere and are easy to put on!
WE GIVEN IT THE RATING OF 5/5 ⭐
These items are often ordered by our dancers